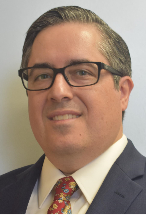 Elvin is an experienced commercial attorney who concentrates his practice on litigation and transactional matters involving contracts, business torts and employment law. He represents companies and individuals in the federal and state courts in New Jersey and New York on wide variety of civil litigation. He also provides outside general counsel services to entrepreneurs, small businesses and non-for-profits.

Elvin has over two decades of experience working for premier firms in New Jersey and New York. His previous employment experience includes Gibbons, PC. where he was a partner in the Business & Commercial Litigation and Intellectual Property groups and Willkie Farr & Gallagher where he was a litigation associate. Elvin manages, supervises and handles all aspects of civil litigation, including depositions, motions, court conferences, hearings and trials.

In addition to his extensive law firm experience, Elvin also served as the General Counsel for an independent New Jersey public agency where his practice included transactional, corporate governance and regulatory matters, employment and labor counseling, grievance hearings, and litigation. Elvin provides outside general counsel services to entrepreneurs, small businesses and non-for-profits, including contract review and negotiation and advice and counsel on employment law, corporate governance and regulatory compliance.
His intellectual property experience includes patent, trade secret, trade dress, copyright and licensing disputes. He has extensive experience working with national counsel on intellectual property litigation in the DNJ and the SDNY, including litigation arising out of method patents, design patents and Abbreviated New Drug Applications (ANDAs) under the Hatch Waxman Act. Elvin has worked with damages experts in patent litigation involving claims for reasonable royalties and lost profits.

Elvin has extensive alternative dispute resolution experience involving mediation and arbitration. He secured an American Arbitration Association ("AAA") award of $3.3 million for a medical device company against a former distributor in a dispute involving the breach of restrictive covenants and unfair competition. The award was confirmed in Federal Court in the DNJ. Elvin is a member of the AAA panel of neutrals for consumer arbitration. Elvin is a member of the Justice Marie L. Garibaldi American Inn of Court for Alternative Dispute Resolution.

Elvin has extensive experience with internal investigations and the defense of white collar crime and regulatory enforcement actions, including alleged Medicare billing irregularities for physical therapy services, alleged accounting irregularities regarding the booking and reporting of quarterly earnings to meet earnings expectations, and the alleged failure to file timely FDA required field alerts by a pharmaceutical company regarding out-of-specification manufacturing results.


Elvin has served on the Boards of various not-for-profits including the Newark Regional Business Partnership ("NRBP), Newark's Chamber of Commerce, where he served on the Board and as General Counsel. He was also a regularly featured speaker at the NRBP's Newark Insider's Forum Series. He is a member of the Statewide Hispanic Chamber of Commerce of NJ.

Education

Columbia University School of Law, JD, Journal of Law and Social Problems
Rutgers – The State University of New Jersey – Newark, B.A. in Political Science with high honors and Phi Beta Kappa, James Dickson Carr Scholar


Admissions
State of New Jersey
United States District Court New Jersey
United States Court of Appeals, Third Circuit
State of New York
United States District Court of the Southern District of New York
United States District Court of the Eastern District of New York

Bar Associations
NJ State Bar Association (Equity Jurisprudence Committee, 2009 - 2017)

Essex County Bar Association (Judicial and Prosecutorial Vetting Committee, 2020 - present)
Federal Bar Association of NJ
Hispanic Bar Association of NJ
The Association of the Bar of the City of New York (Litigation Committee, 2018 - 2021)

Honors
AV® Preeminent™ Peer Review Rated by Martindale-Hubbell New Jersey Super Lawyers, Business Litigation 2011 to 2016

Civic Activities
Statewide Hispanic Chamber of Commerce of New Jersey
Don Pedro Development Corporation (Board 2003 -2006), affordable housing subsidiary of La Casa de Don Pedro, one of New Jersey's largest Hispanic community-focused non-profits

Essex County College (Trustee 2011 - 2017)

Leadership Newark (Class of 2002 Fellow)

Mayor Cory A. Booker transition team, Newark in Transition (Member 2006)

New Jersey Performing Arts Center (Member of 10th Anniversary Steering Committee)
Volunteer Lawyers for Justice (Gala Committee Chair, 3rd Annual Gala)

Languages
Spanish

Representative Decisions
Alexander v. MCI WorldCom, Inc., No. 99-CV-8748 (JFK), 2003 WL 21496892
American Broadcasting Companies v. Wells, 669 F. Supp. 2d 483 (D.N.J. 2009)
Avocent Redmond Corp. V. Raritan Americas, Inc., 921 F. Supp. 2d 229 (S.D.N.Y. 2013)
D&N Property Management & Development Corporation v. The Copeland Companies, 127 F. Supp.2d 456 (S.D.N.Y. 2001)
Ferring B.V. v. Allergan, Inc., 166 F.Supp. 3d 415 (S.D.N.Y. 2016)
Howard v. Klynveld Peat Marwick Goerdeler, 173 F. 3d 844 (2d Cir. 1999)
LG Electronics U.S.A. v. Whirlpool Corp., No. 04-CV-2306 (GEB), 2007 WL 980419
In re: Marvel Entertainment Group, Inc., 222 B.R. 243 (D. Del. 1998)

Multistack LLC v. Arctichill, Inc., No. 05-CV-365 (PAC), 2006 WL 510506

Nissen v. Rozsa, 2012, No. 08-5563 (JLL), 2012 WL 1620006
Nissen v. Rozsa, No. 08-5563 (JLL), 2011 WL 2517134
Nissen v. Rozsa, No. 08-5563 (JLL), 2009 WL 2391244
Ortho Biotech Products v. Amgen, No. 05-Civ-4850 (SRC), 2006 WL 3392939
Pactiv Corp. v. Cube Plastics, No. 07-C-5158 (JFG), 2008 WL 11399699
Sylvan Learning Systems v. Gordon, 135 F. Supp.2d 529 (D.N.J. 2000)